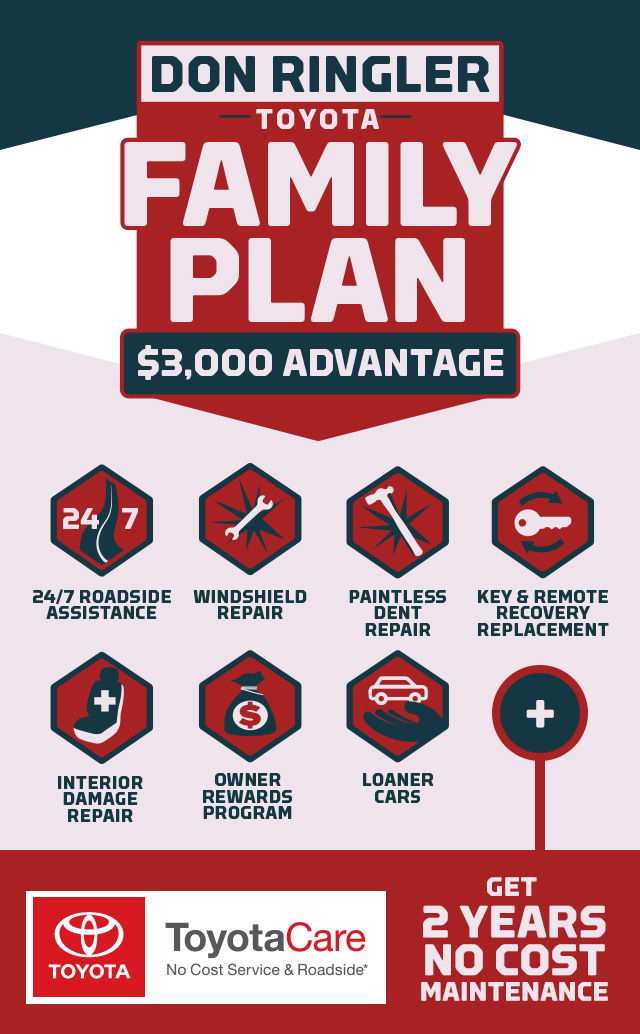 THE FAMILY PLAN INCLUDES
Rental Car Reimbursement - $35 per day, up to 3 days.
Domestic Trip Routing Service - Access to travel information including maps, flight reservations, hotel & rental car discounts, and more.
Roadside Service - Emergency roadside services, lock-out assistance and towing.
Key Recovery & Replacement - $800 benefit level for lost auto key per incident.
Interior - Rips, tears, cuts, or burns less than 2" long.
Windshield Repair - Covers cracks less than 6" long & 1 ½" in diameter.
Paintless Dent Repair - Covers minor exterior dings & dents less than 4". Does not cover hail damage.
FAQ
How much does the Family Plan Cost?
Nothing! As a way to thank our valued customers, we are offering the Family Plan complimentary.
How long does the Family Plan last?
The Family Plan is complimentary for 1 year, but customers have the option to extend their coverage up to 5 years.
What vehicles are eligible for the Family Plan?
Any new Toyota purchased at Don Ringler Toyota.
When and how do I receive a loaner car?
If your vehicle is undergoing any repair covered by the Family Plan, you are eligible for Rental Car Reimbursement of $35 per day, up to 3 days.
What does the owner rewards program include?
Our Owner Rewards program includes member exclusive coupons, parts & accessories discounts, vehicle purchasing credits, rental for overnight repairs & more!
The new vehicle cannot be a part of a rental or commercial fleet, company vehicle, or a livery/taxi vehicle. Exclusions may apply. See dealer for details.